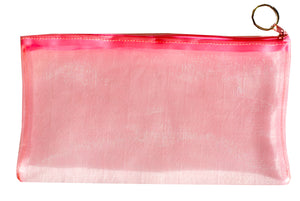 littlegrommets
10 PACK - PINK MESH BAGS
Regular price
$47.00
$0.00
ENTS, Audiologists, Pharmacies, Hospitals and Swim Schools receive an automatic discount by choosing this 10 Pack.
HOW LONG WILL IT TAKE FOR MY ORDER TO ARRIVE? 
Please see our shipping page for ore detail. Your order will be dispatched from Melbourne Australia within two weeks of receiving you order.
WHAT SIZE EARBAND DO I NEED? 
Our earbands are one size fits all and fully adjustable to fit all ages, sizes, and shapes. We no longer carry our famed green and pink earbands however our navy blue child to adult design fits most head sizes and we provide a template to reduce the size manually if needed. 

HOW DO I USE THE EARPLUGS? 
Full instructions come with our earplugs. Basically you knead the silicone putty with your fingers and then mould to the outer ear making sure not to insert into the actual ear canal. The earplugs form a watertight seal that is reinforced and maintained with your little grommets ear band. Please watch our information videos for full instruction.

HOW DO I PUT ON MY LITTLE GROMMETS EARBAND? 
Insert earplugs. Decide which side of the reversible earband you want facing outwards. Then stand in front of your child and wrap the earband from their forehead around to the back of their neck and secure firmly at the nape of their neck under their hair. Loosen or tighten with the adjustable velcro as required. Please watch our information videos for full instruction.

CAN MY CHILD REALLY SWIM WITH GROMMETS OR EAR TUBES? 
Yes they can! Little grommets earplugs and earbands make it safe and easy to swim with grommets and ear tubes! 

HOW LONG WILL MY EARBAND LAST? 
Look after it by keeping it in a little grommets mesh bag. Let it dry in the shade after each swim. Don't let the dog chew it. And your earband can last up to three years. 

HOW LONG WILL MY EARPLUGS LAST? 
Look after them and they can be reused dozens of times. Once they get manky though it's time to buy a new pack. 

WHY DOES THE AMOUNT ON MY BANK STATEMENT DIFFER FROM MY ORDER FORM? 
We state at the check out that the display in your currency is for your convenience only and all charges are in AUD. Therefore if you are in a country other than Australia you may end up paying slightly more or less depending on your financial institutions currency conversion. The difference is usually no more than a few cents.
---
Share this Product
---
More from this collection